What's your big idea? I bought that domain name many years ago but didn't have a big idea for how to use it, so it just fizzled away…
And such proves the point – if we want to have a big impact we must have a big vision – or big idea – that goes along with it. It's true with accomplishing the end result – and it's true of raising the money to make that big idea a reality. A point I made at a training a few weeks ago that seemed to resonate with a few people is that a fundraising program can only be as good as the organization itself. If the programs aren't that good, if the board isn't strong, if the potential impact isn't there, then raising money will be next to impossible. If the programs are amazing, if the board is strong and if the potential impact is there, then finding potential supporters will be much easier.
So I ask again – what's your big idea? And secondly – how will you share that idea, that vision, and invite others to be part of the story you're writing? To read more about this topic, click through to the Seth Godin article below on idea adaption. There are several other articles and posts to help you stay up-to-date on trends and topics facing the nonprofit world.
Thanks for everything you do to make the world a better place!
---
Leadership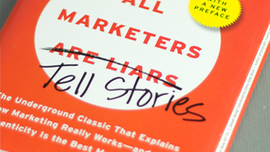 Seth's Blog: How idea adoption works–The Idea Progression @thisissethsblog
Different people have different mindsets when encountering various markets. Some people are eager to try new foods, but always rely on proven fashions or cars. Some people live on the edge of popular culture when it comes to lifestyle, but want to be in the back of the room when it comes to their understanding of the latest science…
Every important idea starts out on the fringe.
---
Fundraising Planning
It's September. What should be on your to do list? – The Storytelling Non-Profit @vanessaechase
This writer has learned a few lessons about how to prepare for year-end fundraising. These lessons have helped her create a to-do list that she uses for consulting projects related to year end fundraising.
Here are the 5 things she does in September to prepare for a better year-end fundraising season.
The Problem With Nonprofit Events | Social Velocity @nedgington
The nonprofit sector's belief that events are a legitimate way to raise money is misguided.
For the most part, when you factor in the direct (food, venue, invites, entertainment) and indirect (staff, board and volunteer time) costs of an event, you either break even (best case) or lose money (worst case). The error many nonprofit leaders make is looking only at the gross revenue of an event ("We made $50,000!") as opposed to the net revenue ("After factoring in expenses, we actually only made $20,000 on that event") and the cost to raise a dollar ("Whoa, it cost us $1.50 to raise $1.00 at that event!").
---
Fundraising Tactics
The Syrian refugee crisis, tipping points and fundraising @101fundraising
Emergencies can trigger powerful emotions, so powerful that spontaneous donations start pouring in. But most causes don't automatically and organically create such response (contrary to what your board might think). The fundraising department is responsible for creating that emotion and response.
How do we do that? A few thoughts come to mind:
Complete Monthly Giving Starter Check List – A Direct Solution @ericawaasdorp
If you're like other nonprofits, six out of ten donors who gave to your organization last year won't give this year. A monthly giving program is a proven effective solution for retaining donors. Here's a checklist of steps for you to follow (explained in greater detail in the Monthly Giving Starter Kit) to help you start and maintain a successful monthly giving program.
---
Communications
What Can TV Commercials Teach You About Nonprofit Storytelling? @CauseVox
You can learn a lot about compelling storytelling from TV commercials. They must grab your attention immediately or risk you changing the channel. They have to create a powerful emotional response in a very short amount of time. And finally, they need to convey a clear and actionable message at the same time.
Here are some things you can learn about storytelling from TV commercials.
Maximize Your Nonprofit's Time On Social Media – re: charity 
@bradyjosephson
Time is the greatest resource a nonprofit organization has at its disposal. The management of that resource is then of utmost importance. So when it comes to the time-sucking world of social media, nonprofit leaders and organizations need to be at their time management best. Consider Nonprofit Tech For Good's post on How Much Time Social Media Requires for Fundraising Success where they suggest mobile and social should/could take 42 hours a week. Don't have 42 hours? Here's where to start.