One of my favorite lines is: 'If you don't know where you're going, any road will take you there.'
I'm reminded of that this week by Erik Anderson's tale of a new executive director through the lens of Alice in Wonderland. I wanted to laugh, cry, smile and grrr in frustration as I was reading through it. I've heard that story more than once in my consulting and coaching practice.
But if awareness and acceptance that one has a problem is the first step to fixing something, then I suppose recognizing the issue is a good first step.
On a slightly related note, I'm in the process of putting together a talk about the very real struggles and issues we're facing in the nonprofit sector. The first audience to hear it will be my friends who are part of FRESI (Fundraising Executives of Southern Indiana) in early September. If you're interested in hearing it let me know and I'll work on putting it in webinar format…
Happy Reading!
---
Nonprofit News Roundup
LEADERSHIP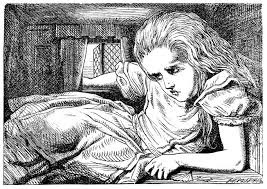 Alice in Wonderland as an allegory for a newly hired non-profit CEO | DonorDreams Blog
Erik Anderson has gotten creative and used Lewis Carroll's Alice's Adventures in Wonderland and Through the Looking-Glass to talk about what many new non-profit CEO's go through during and immediately after they're hired. Amusing and sad at the same time…
When Recruiting Board Members, Look for a Willingness to Learn | Train Your Board

There were two very simple variables connected to their improvement. First, humility. The successful boards included a majority of members who accepted that they didn't understand fundraising. Second, they were eager to learn – and improve their skills – together. Not all experience is good experience…

FUNDRAISING PLANNING
Grow More Income. Faster. | Karen Eber Davis Consulting

When you spend time discussing opportunities instead of seeking them, you lose income. Using criteria helps you to sort opportunities and then focus your efforts on obtaining income. Adopt this simple four burner stove approach to get organized and set your priorities.

7 Techniques to Boost Donor Engagement | Hands On Fundraising

While most nonprofits would agree that the ultimate form of donor engagement is making a donation, the term can also be used more loosely to apply to any time a donor supports or directly interacts with the organization. Any chance to interact with a donor is a chance to strengthen your relationship with them, which will naturally result in more donations! If you're looking to boost your donor engagement, here are 7 techniques to boost donor engagement…

COMMUNICATIONS
Fell into the trap! | The Little Words Mean the Most
Master a modest handful of so-called "emotional triggers" … and you will master probably 95% of what you need to write effective fundraising appeals, donor newsletters and giving pages on your website. These emotional triggers work…
How to Create Marketing Content with Maslow's Hierarchy of Needs | Sumer Copywriting

The idea is that you need to work your way up the pyramid to reach the end goal, which is self-actualization… You can use every single segment of the pyramid to predict human behavior and influence your prospect's decision-making process.

FUNDRAISING TACTICS

Cutting Through the Clutter of Year-End Appeals | npENGAGE
The right ways to inspire your donors to stick around:
* Talk about the impact their gifts helped you make.
* Use communication to cause people to feel something.
* Don't wait until year-end to work on donor retention.
Our brains are wired so that we must feel something before…
Ultimate Guide to Convert Event Attendees into Donors | Clairification

Events Exist Within a Relationship-Building Context. You must always be cognizant of moving folks along a relationship continuum. From awareness… to interest… to involvement… to investment. Events create momentum…