So often we warn, in donor communications, to not talk about the organization too much. Because really, it's about the donor so that's a good thing to note. Too often through, I see organizations take it too far in the other direction where they stop talking about themselves at all. That's one of the reasons I love the post from Kivi Leroux Miller's blog so much. It encourages sending out information about all of the great things that are happening because of the donors (and of course because of the good work of the organization). So go ahead and brag a little!
Scroll down and you'll see a full list of articles and posts to help stay up-to-date on trends and topics facing the nonprofit world.
Best wishes,
Kirsten
Quote of the Week: We cannot live only for ourselves. A thousand fibers connect us with our fellow men. – Herman Melville
---
Communications
People Remember What You Say When You Paint a Picture – HBR @HarvardBiz
Leaders must communicate strategies for growth that employees can clearly envision. Instead of invoking abstract ideals, the most effective leaders communicate their visions using image-based words. What, exactly, is a vision with image-based words? It's one that describes people with well-defined attributes (such as children) and observable actions (such as smiling and laughing). Image-based words convey…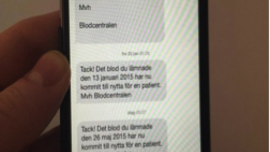 Powerful Thank You – Agitator @AgitatorEditors
If you donate blood in Sweden you'll not only receive a text message thanking you when your blood is first taken, you'll also receive a second thank you when your blood has been used. Donors are excited, impressed and motivated by the process. Not only do these timely thank you's give donors positive feedback on their generous effort, it's also proved a hit on social media where donors are talking up their blood donations to friends.
---
Fundraising Planning
Charitable Giving Grew to Record Levels in 2014 | npENGAGE @blackbaud
According to Giving USA, total giving in the U.S. reached $358.38 billion in 2014, a 7.1% increase in current dollars and a 5.4% increase in inflation-adjusted dollars. Approximately 72% of those donations came from individuals. Established in 1956 by the American Association of Fundraising Counsel, now The Giving Institute is made possible by contributions from The Giving Institute member firms, foundations, and other donors. Giving USA is researched and written by the Indiana University Lilly Family School of Philanthropy.
8 Foundations of a Successful Fundraising Plan @SandyRees
When you have a big goal you want to achieve, the best way to assure that you'll reach it is to figure out how you'll get there. You must lay out a well thought-out strategy to ensure your success. You'll never wing it or figure it out as you go. No shooting from the hip. No 'make it up as you go.' Your goal is too important to leave it to chance.
If you're one of those people who has something BIG in the works – a huge goal for changing lives – do yourself and those your nonprofit serves a favor: PLAN for your success. Set yourself up for success with these 8 foundations of a successful fundraising plan.
---
Fundraising Tactics
Think, Feel, Do Major Gift Magic @101fundraising
There are lots of conversations on and offline about the importance of donor engagement. More recently, tons of talk, thank goodness, about donor retention, loving and wowing your donors. What is missing, for the most part, is the role strategy plays in "major gift magic" – an inspired, joyful, generous yes to your request. It starts with a discovery visit that uncovers the donors' philanthropic profile. This is a visit where you ask strategic questions and listen to understand…
A Super Effective Online Fundraising Tool: The "Wins" Blog Post | Kivi's Nonprofit Communications Blog @kivilm
Want to get donors all jazzed up before an online fundraising campaign?
Try the "wins" blog post, a numbered summary of the good your donors made possible in the recent past. I've tried this tactic with three clients over the past 18 months, each with excellent results.
Take a look…
---
Leadership
When Nonprofits Should Consider a Merger @NPhub
It's common for there to be a negative connotation around the word "merger" in general, but maybe less so for nonprofit organizations. When you think of organizations merging, you might think it's because one side is struggling to make ends meet. While that certainly could be true, you could also be an NPO in good standing looking to merge with another organization to add new programming. There's two sides to every coin.
Since the process of a merger is too laborious to make any rash decisions, let's go over a range of scenarios for when nonprofits should consider a merger.

New Report on Nonprofit Leadership from Third Sector New England | Common Good Vermont Blog
Responses to this survey pointed to critical findings including:
64% of executives plan to leave their jobs within the next five years.
60% of organizations do not have succession plans.
Just one-third of leaders believe they have staff in their organization who can step up into leadership positions.
While this was a regional study, chances are it might give those of us in the rest of the country some food for thought as well.